KNOW YOUR NEIGHBOURHOOD is a new national initiative to reduce loneliness and isolation, and to support people at their own pace into community volunteering
Maybe you're new to the area and don't know anyone yet, maybe you're looking to make new friends or meet new people? Maybe you've thought about volunteering in the past but didn't know what is available locally, how to go about it or don't want to commit to anything regular yet? Then this is the project for you – no pressure, great people and no commitment!
This free* project will consist of three elements:
1. Drop in sessions, where you can chat to our friendly staff, meet other people in your area and find out what's going on in your locality. Aimed at young and old alike, the sessions are informal, no registration or booking is required. Refreshments, biscuits/cake, and games for all ages. Next drop in session: 20th October 10am to 12noon – at ACE, 16-18 Alpha Road, Gorleston NR31 0LQ  As part of this service, ACE are also able to give help and advice with regards to better off calculations, provide employment support, and give help to apply for the Client Hardship Service (formerly the Norfolk Assistance Scheme) along with lots of other valuable support and advice.
2. Information sessions, where you can find out more about volunteering opportunities in your area, learn new skills, or share your expertise or skills with others in your community. No 'hard sell' or pressure – work at your own pace. Find out about workshop activities to boost your knowledge or hone your skills in things like DIY, car maintenance or cookery.
3. Task force/Volunteering, with other ACE members and staff. Supported volunteering activities in the Great Yarmouth area as part of a team. Tasks could include things like decorating a community space, helping at a lunch club, overhauling a community garden area or a litter pick. Take part in wellbeing walks, meet new people in new locations and become a valued member of your community.
CONTACT US to get involved in this exciting initiative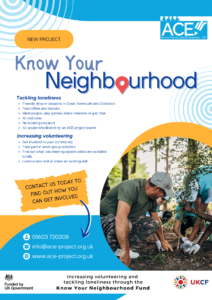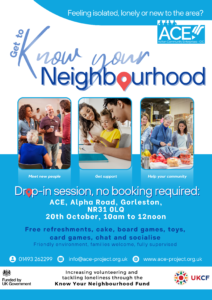 * The Know Your Neighbourhood Fund is funded by UK Government, through UK Community Foundations